Attention Investors: If you want Greater and More Consistent Profit with Lower Risk
Real Estate Investor Software & Training to Help: You
| | |
| --- | --- |
| | Structure Win-Win Deals |
| | Sell for a Profit in Any Market |
| | Protect from Hidden Costs |
| | Maintain a Positive Cashflow |
FREE WEBINAR VIDEO:
"WIN BIG ON EVERY DEAL"

You'll Learn How to:

| | |
| --- | --- |
| | Sell for a Profit in any Market Condition |
| | Structure Win-Win Deals |
| | Buy Right & Don't Overpay |
| | Account For And Reduce Your Risks From Hidden Defects & Repair Costs |
| | Quickly Analyze Multiple Exit Strategies: Profit, Cashflow, Risk |
| | Never Come out-of-pocket to Meet Your Holding Costs |
| | Plan Your Funding Strategy |
| | Maintain a Positive Cashflow even in a worst-case scenario |
A Deal Evaluation Tool™ that Picks out the Deals with a Guaranteed Profit and Low Risk
Easy to Use - Affordable - Free Support
Evaluates all Types of Real Estate Deals
**The Only Real Estate Investing Software You'll Ever Need**
Designed Specifically for Today's Creative Real Estate Investors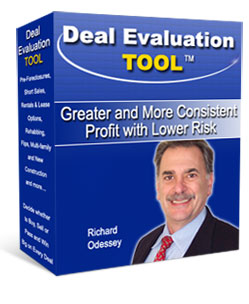 Sell For a Profit in Any Market
A savvy real estate investor can make money in any type of market. Of course it's easier in a rapidly appreciating market—just buy anything and wait for the value to go up. If the market is flat, or even declining, one has know how to "buy right". Remember you always make your profit when you buy.
But how do you "buy right"? First, you need to know what the right price and terms should be for any deal you're considering. And to do that, you need to collect the numbers (price, market value, repairs, rents, liens, loan payments, etc.) and analyze what your cashflow and profit will be over the time you plan to own the property. And you need to be able to put in the assumptions that reflect the local market conditions.
Then you compare various exit strategies to see which one(s) will bring you the best return with the lowest risk. Then once you know your bottom line, you are in a powerful negotiating position. You now have all the ammunition you need to structure a win-win transaction.
If you can't get an agreement from the seller – you move on to the next prospect, with no risk, no financial loss. If the seller agrees, you know you've got a deal you can count on making you money.
You could wear out several pencils and your calculator trying to do all the calculations involved, assuming you even could. . .
Unless, of course, you had a Deal Evaluation Tool™ that was specifically designed to do this for you.
A Deal Evaluation Tool™ that Gives Instant Answers
This was the same problem I was facing several years ago. And I have to admit, that even though my wife Michelle & I were experienced real estate investors, we got burned on a couple of deals because we did not (in fact, could not), do the kind of in depth analysis and project the outcome of these deals.
So, I designed a sophisticated piece of software to solve this problem. It took me about a year and a half to perfect it. Now, we use it before we enter any real estate transaction, and we've made good decisions every time. I call it the Deal Evaluation Tool™ and with it you can:
| | |
| --- | --- |
| | Evaluate each Deal with Quickly and Decisively |
| | Know the Outcome of Every Deal before you Buy... |
| | Decide Deal or No Deal |
| | OR - Know what to Negotiate With The Power to Get What You Want |
| | Cherry pick the Best Deals |
| | Make the MOST MONEY with LOW RISK |
Real Estate Investor Software the Actually Tells You Whether it's Good Deal And Why
| | |
| --- | --- |
| | Quantitates Profit, Cashflow AND Risk |
| | Compares to Time-tested Criteria |
| | Red Flags Problems |
| | Gives you Solutions |
| | Compares Multiple Exit Strategies |
CYA If Repair Costs Escalate or you can't Rent or Sell Quickly?
I can tell you that my philosophy is to only do deals that will work even in the worst case scenarios. One of the most important things I built into the Deal Evaluation Tool™ is the ability to easily see the effect on the deal of unexpected problems like having to hold the property for 3 extra months before it's sold or rented, or paying more than expected or taking longer than expected on the rehab job. Really, if that's going to kill your deal—renegotiate or walk away.
You can plan for surprises so they won't rob you of your profit!
Automatically Red Flag the Problems and Create Solutions
Importantly, I've also built into the Deal Evaluation Tool™, quantitative risk assessment criteria. That means that the Deal Evaluation Tool™, will actually "red flag" the aspects of your deal that could leave you in financial trouble. For example, increases in vacancy, expenses, repair costs, etc.
And, I've incorporated the experience of many investors, by creating numerical standards to judge the risk, that give you suggestions on how to fix them. That's why, once the Deal Evaluation Tool™, gives you the thumbs up – you can have confidence that your looking at a good profit-making, low risk transaction.
(**One little PS: no software, method or system is going to be reliable unless the information you supply is accurate. You still need to do your due diligence).
Works with Any Kind of Real Estate Investment
Michelle and I have done lots of different kinds of real estate transactions. So I wanted to make the Deal Evaluation Tool™ useful no matter what kind of real estate investing you do or are considering doing. So here's a partial list of the types of transactions you can analyze with the Deal Evaluation Tool™:
Any Type of Property
• Single Family
• Duplex, Triplex
• Quads
• Multi-Family & Apartments
• Commercial
• Mobile Home Parks
Any Type of Deal
• Preforeclosures
• Subject to
• Short sales
• Owner financing
• Rentals
• Lease Options
• Multi-family & Commercial
• Rehabs
• Flips/Wholesaling
• New Construction
Any Type of Financing
| | |
| --- | --- |
| • Conventional Financing, | • Adjustable rate mortgages, calculate current payments & balance |
| • Balloons, | • Construction & Rehab Loans – customize draw schedules |
| • Interest Only, | • Purchase and Refinance Loans |
| • Points, up front or deferred | • Up to 7 loans per property |
Complete Analysis
| | |
| --- | --- |
| • Cashflow | • Equity |
| • Profit | • Cash |
| • Income & Expense | • Return on Investment |
| • Risk | • 10 year projections |
Ultimate Flexibility – Every Detail can be Input and Changed
In order to come up with solutions and negotiate effectively you need to be able to change any aspect of the transaction to fit your situation. Below is a partial list of the various aspects of the transaction that are under your control. And, all these parameters have "default" values so that you only need to change the ones that differ in your situation.
| | |
| --- | --- |
| • Detailed closing costs | • Seller contributions |
| • Purchase & marketing costs | • Mortgage arrearages |
| • Every type of rental expense & other sources of income | • Pre-payment penalties |
| • Vacancy levels | • Selling costs |
| • Multiple types of rental units | • Appreciation & cap rate |
| • Carrying costs | • Rental, expense & tax increases |
| | • One time events |
100% No-Risk Guarantee

If there's any type of property purchase you can't do with this software, I'll give you FREE a personal $500 Consultation and upgrade the software to solve your problem.
Deal Evaluation Training
Evaluating real estate transactions can become quite complex or sophisticated. The Deal Evaluation Tool™ can handle all these situations, but can the investor? To address this issue, we have created a training program to show you how to analyze deals, and structure win-win solutions.
You will be invited to 12 monthly sessions where we will teach basic and advanced aspects of deal structuring with you and your fellow students. You will also be able to bring your own transactions to these sessions and get feedback on the best solutions to make you money.
A Bootcamp on the Web – by Invitation Only
When you get the Deal Evaluation Tool™, you become a member for 1 year in the Deal Evaluation Tool™ User's group. This entitles you to attend the 12 training sessions and you will be invited to an exclusive Members Only Deal Evaluation Bootcamp. It will cover all aspects of structuring a Win-Win solution including: Funding, Financing, Deal Structuring, Due Diligence, and Selling.
This is no ordinary bootcamp. Instead of getting on a plane, reserving a hotel, paying for meals and being away from home or business, we are going to bring the bootcamp to you. Through the magic of Webinar technology, you will be able to attend the bootcamp from your home or office computer and telephone.
Here's What You Get:
This Deal Evaluation Tool™ is totally NEW. There is nothing else like it out there. We've been using it for all our deals. It works.
Here's What You Get:
Full Function Deal Evaluation Tool™ – Over 13 different Sheets, Reports, Graphs and Analysis (Value: $697.00)

| | |
| --- | --- |
| | • Simple, Easy & Comprehensive User Manual with instructions and investing tips |
| | • Sample Deal Spreadsheets |
| | • Video Tutorials on How to Use the Deal Evaluation Tool™ in your deals. |
| | • Upgrades for 1 year FREE (we are constantly improving and adding to this spreadsheet) |

1 Year Membership in the Deal Evaluation Users Group
(Value: $997.00)

| | |
| --- | --- |
| | • Includes 12 Monthly Training Sessions |
| | • Feedback and solutions on your deals |

Free Attendance for You and a Partner to the Deal Evaluation Bootcamp (Value: $1,997.00)

| | |
| --- | --- |
| | • 2-day Webinar |
| | • Win-Win Solutions for Funding, Financing, Deal Structuring, Due Diligence, and Selling |
Special Introductory Offer
| | |
| --- | --- |
| | Now for a limited time only, we are going to make this tool available to you for a deep discount in exchange for your feedback. We predict you'll save 10 Times your investment on the first deal you use it on. |
YOU MUST ACT NOW! ONLY the Next 100 Investors will have a chance to own the Deal Evaluation Tool™ at this incredible bargain. It real is a no-brainer to have this tool in your arsenal.
Get The Full Program!

Get the Deal Evalulation Tool, Membership in the Exclusive User Group, and Bootcamp Admission!

Software Only Option

Purchase the Deal Evaluation Tool™ only today.
100% No-Risk Guarantee

If there's any type of property purchase you can't do with this software, I'll give you FREE a personal $500 Consultation and upgrade the software to solve your problem.
Best of Success,
Richard
P.S. – This Deal Evaluation Tool™ is more than worth the full retail value. And the Next 100 investors will be able to own this tool for a DEEP DISCOUNT. Don't wait til your # 101- GET YOURS NOW.